"To my mind, the greatest reward and luxury of travel is to be able to experience everyday things as if for the first time, to be in a position in which almost nothing is so familiar it is taken for granted." – Bill Bryson
When we are planning our trips away, whether that be a cheeky staycation or a family trip abroad, I think we all ask ourselves what makes the perfect holiday. Follow this tasty recipe and you will be onto a winner!
Take a Dollop of Sunshine
Whether it is a beach holiday or a bit of crisp winter sun, there is nothing better than recharging the batteries with a big dollop of vitamin D. Sunshine just makes me happy, so as long as there is some, then it is a pretty good start to a perfect holiday.
Mix it with a Family of Four
Our little family of four includes myself, Mr U and our two littles, Max (aged 4) & Chloe (nearly 2). We love to travel and adventure and don't want having children to stop use from experiencing new things and visiting new places.
Add a Large Serving of Good Food
For those people that follow me on social media will know, I am a bit of a foodie (OK, a lot of a foodie) and yes, I'm one of those people that photographs my food (not even sorry). I just love it. So for our little family of four that loves to travel, anything that involves food whist we are away is a must!
I think that you can get good weather in a lot of places.
You can get lovely beaches in a lot of places.
You can get things like waterparks or shopping malls in a lot of places.
But for me, what helps to make the holiday perfect, is if you are able to get fully immersed into the culture. My top way to do that, and as a serious foodie you might have guessed, is by the food. This is one of the things that sets countries apart from the others. Like seriously people, I know this is major first world problems, but I don't think you should be having something like burgers and chips in places that are known for their amazing food. Finding a little family run restaurant in somewhere like Italy is the best – they have such passion and skill behind their food.
When we went to Thailand last summer, we went off adventuring down to the local markets and to little huts on the beach. Not only were they significantly cheaper than the hotel restaurants but it was the best Thai food I have had in my life (literally salivating at the thought – that Pad Thai though…). I might even sacrifice the 12 hours of flying to get there again, with my drama-queen daughter in tow.
Maybe.
I just think the best way to experience a city or a country is by the food that they have there.
Genuine. Authentic. The best.
Throw in a Pinch of Something New
I would love to be taught to make macaroons in Paris or to make some genuine Asian street food. I think it is awesome when the kids experience something new too. I'd love for them to learn to ski or experience meeting new animals (they're pretty obsessed with animals), like riding an elephant or swimming with dolphins. When there is something completely new, it makes a holiday unforgettable. Pretty perfect if you ask me.
Add a Teaspoon of Reality
I think what also would make for a perfect holiday, would be for my kids to get through a said meals without complaining. Or for us all to sit in silence and be able to actually watch a film on the plane 😉 #mumproblems
Leave to Mix for at Least a Week
The perfect holiday has to be for at least a week, I think. Under a week just isn't enough time to get to enjoy all of the things that the country you are visiting has to offer.
So add all of the above ingredients to last for over a week and you'll get a pretty perfect result.
What makes a perfect holiday for you?
Linking up to Share With Me & Blogger Club UK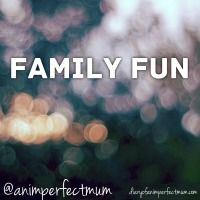 *This is my application to the #MarkWarnerMum ambassador programme.