Whether you are a beginner at blogging or a seasoned pro, discovering new blogs and also having your blog be discovered, is always a good thing. I thought I would put together a list of blog hops and linkys that you can take part in so get to know new blogs and raise awareness of your own blog. (I think the list for my sanity rather than anything else – I know there are a lot of blog hops etc around and I join in sporadically, but I want to get more involved and do it more regularly. If I have a list written down I'm more likely to do it, right?)
The idea of a blog hop, for those of you that don't know, is where you all write and share posts around a similar theme and you can add your link to the list. The idea is then that you generally read and comment on a few of the ones on the list and you should also get views and comments too. I'm not regular at joining linkys as I've said, but when I do I have discovered some fab blogs and also received some lovely comments.
Mondays
Tuesdays
Wednesdays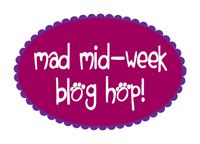 Thursdays
Saturdays
Sundays

So go and check them all out. I am definitely making it a goal to get involved in them all more regularly. Are there any great blog hops you get involved in? Let me know!
Rebecca x
BlogLovin' | Facebook | Twitter | Instagram