Welcome to the fourth (and quite possibly, final) #FitFriday linky. I really appreciate all of your support and linking up – if you want it to carry it on please leave a comment saying so. I thought I would just trial it out and see how it went.
Just two posts linked last week bit both brilliant. A great protein breakfast muffin recipe from Kiarna at Mamas Journey to Slim n Curvy. and an update on Claire at Six Degrees of Harmony's weight loss journey and how she is getting on with the paleo diet.
So, this week, click on the inLinkz button underneath this and link up any of your heath or fitness themed posts, new or old, so we can all be thinking healthy thoughts ready for the weekend, though you have until Thursday to link up.  Remember to comment on at least one other post to share the love. Plus, if you tweet me, I will always retweet your post and share.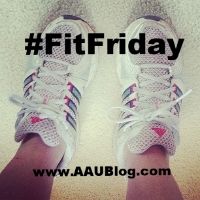 <div align="center"><a href="http://www.AAUBlog.com" title="All about U"><img src="https://i575.photobucket.com/albums/ss200/rebeccaurie/798a392b-c8c5-4109-9249-2b956a159c37.jpg" alt="All about U" style="border:none;" /></a></div>
Rebecca x
BlogLovin' | Facebook | Twitter | Instagram