Welcome to the first ever #FitFriday linky party! Thanks for stopping by. I thought it would be a great way to get us in a fit and healthy mind-set for the weekend.
You've got up until Thursday next week to link up any posts, new or old, that are happy, fitness and health related – think dieting goals, healthy recipes, an active activity you've done with the kids, rants or advice (can be as tenuous as you like). I just ask that you don't link up giveaways (these will be deleted if you do).
The other rules are that you need to comment on a few other linked posts, using the hashtag. If you can add the badge to your post, or mention the link up, that would be super. If you tweet me at @AAUBlog I will always RT your post.
Have a great healthy weekend and thanks for linking up!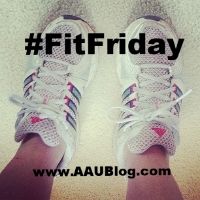 <div align="center"><a href="http://www.AAUBlog.com" title="All about U"><img src="https://i575.photobucket.com/albums/ss200/rebeccaurie/798a392b-c8c5-4109-9249-2b956a159c37.jpg" alt="All about U" style="border:none;" /></a></div>
  Powered by Linky Tools Click here to enter your link and view this Linky Tools list… you will see all others that have linked, on the next page too – got to love WordPress 😉
Rebecca x
BlogLovin' | Facebook | Twitter | Instagram