I'm always on the look out for healthy snacks for the children to have. I like to bake / make a lot of them myself but sometimes there really isn't anything better than grab-and-go snacks, though healthy ones can be quite hard to find. There are always artificial things here or lots of sugar there.
Well, one mother who was in the same dilemma, with the added drama of having children with allergies, was the creator of the Heavenly Tasty Organics Superfood snacks. They are organic and only made from natural, ingredients so literally no junk in them at all. Love reading a label and understanding exactly what is in them!
We have been sent some to try out. They may say from 6 months up but the whole family have been enjoying them.
We were sent two flavours, pumpkin and banana and spinach, apple and kale. If I'm honest, I didn't think the spinach ones particularly tasted of anything, though they are definitely edible, but I much preferred the pumpkin and banana wafers. They were much more flavourful. The kids didn't seem to mind either way though!
The wafers can be split in two so they are long finger wafers for weaning hands or kept their normal size, like Chloe was trying out. To say they are wafers, they really don't get messy as other wafer / puff baby foods do. They come in sealed packs of three so perfect for lunchboxes or to throw in your bag for a trip out. I found for Chloe at least, that she couldn't always manage three when we were out and about so they are pretty filling and a good portion size for little ones to have. They would be great for when weaning too because they kind of 'dissolve' in the mouth so a really reduced choking hazard.
They are available from Ocado, currently on offer for £1.64. I think the price point is great, really competitive for what is on the market, and you do get a lot of the wafers for your money (6 packs of 3) so they did last us a fair while. I think it is a shame there is only one place to buy them at the moment but it is a brand new product so I imagine the plan will be to sell elsewhere, in time.
I would definitely pop these into my basket next time I shop at Ocado – I think they're great!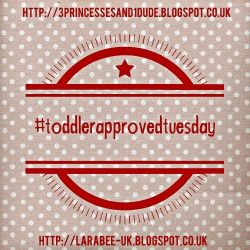 Rebecca x
BlogLovin' | Facebook | Twitter | Instagram
*The items were gifted to us in exchange for an honest review. All opinions are our own.