I am a big fan of blog hops & linkys and think it's a great way to get to know new blogs and bloggers. Plus, if you're in a bit of a rut of what to write, you can always write around linky themes. So, I've decided to trail a linky of my own, starting tomorrow, Friday 11th July.
The idea of the linky is to link up any posts, new or old, with anything fit and healthy. A low calorie recipe, a workout, something you've done active with the kids, your weight loss or marathon training progression – whatever! I'm on an eternal diet and used to be a personal trainer and class instructor so it's a topic close to my heart.
So pop on over tomorrow and link up. The only requirements are that your posts is fitness / health related and you comment on at least two other blog posts that have linked up. If you can add my badge to your post that would be a bonus!
If you want to tweet me your link I'll be happy to RT and share.
Happy #FitFriday thoughts!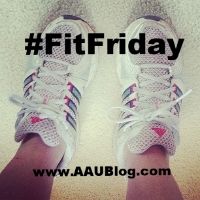 <div align="center"><a href="http://www.AAUBlog.com" title="All about U"><img src="https://i575.photobucket.com/albums/ss200/rebeccaurie/798a392b-c8c5-4109-9249-2b956a159c37.jpg" alt="All about U" style="border:none;" /></a></div>
Rebecca x
BlogLovin' | Facebook | Twitter | Instagram