Welcome to this week's PoCoLo! I'm thrilled to be able to help out Vicky and cover for her whilst she is away. I am a big fan of this linky so happy to be able to help and read all your fantastic posts.
I've had a busy week this week up visiting my parents in York. My sister-in-law and sister were each there with their children too so there were 6 children under 4 – very fun but as you can imagine rather crazy (and noisy). I have posted about considerations for having more children this week, as well as some plans we have for our home.
If you are a regular linker then it would be great if you spread the #PoCoLo word. However, if you are new then welcome! Post Comment Love is all about sharing posts which you have written this week which just haven't got the attention they deserve and, with them all in one place, we can help each other share the comment love. This is one of the easiest links EVER. You don't have a 'special theme' to have to write about, the post can be personal, sponsored, a photo, a review, a competition, your own linky, something you've linked to a linky….WHATEVER you like – it's one you've already written this week! If you want some publicity and attention, then you are in the right place!
Please make sure you go across and comment on at least two other linkers posts. Linkys work if everyone supports each other 🙂 then spread the #PoCoLo about this link up on Twitter. The post you link up has to have been written in the last week. The link will go up every Friday at 6.30am and close on Sunday evening at 8pm.
The 'About Me' special is still open to join until April 2015 – so if you are new then it is a great place to introduce yourself and it is also a great resource to find out about your fellow bloggers.
Don't forget our #SoFoLo community on Google + and our #PoCoLo Facebook group where you can come and post your PoCoLo post for some more shares as well as any of your social media accounts of yours that need more followers.
Vicky has a list for the Newbie Showcase running into March 2016. If you would like to be featured then please email her at vickywelton@hotmail.com so she can put you on the rota. Remember, your blog needs to be under a year old to feature from the time of sending your email to her.

My name is Sanna and I am originally from Finland. My husband is a born and bred Londoner. We met in a chair lift in Chamonix, France, and today we live in a leafy part of London in a little terraced house with our toddler girl.
My blog is about the London life of a career mum & stay-at-home dad. I love photography and capturing those wonderful little everyday moments our family shares and that was a great big motivator for me to start my blog in August 2014.
I guess the best way to describe my blog would be to say it is a family lifestyle blog. I write about things such as toddler outfits, outdoor play, exploring London with kids, little everyday moments and travelling. We are also doing a huge renovation project with our first home, so regular renovation and interior posts are now also there. I even do my own monthly linky called My Monthly Roundup.
You might also wonder where the name for my blog comes from. "Wave to mummy" is what my husband says to our daughter every morning when I am leaving for the day. We thought it was quite an apt name for the blog, about a family with a slightly unconventional set-up.
If you want to pop in by and have a look, some of my all-time favourite posts include:
And if you want to say hi, you can find me at:
*Waves*
Onto the link up! Remember to grab the badge and comment on as many posts as you can – that's what the link up is all about! I am working this weekend but will get round to all of your posts through the week – looking forward to reading them 🙂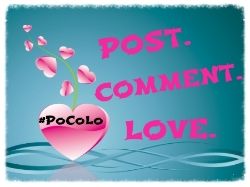 <div align="center"><a href="http://www.vevivos.com/post-comment-love" title="Post Comment Love"><img src=" http://i1322.photobucket.com/albums/u568/ToriWel/4e4a1bf6-07cb-494b-b06e-f959b1fe1311_zps654d027a.jpg" alt="Post Comment Love" style="border:none;" /></a></div>
Rebecca x