We were lucky to receive a lot of lovely home ware items when we got married. However, that was over 6 years ago and though most things have survived fine, there a few things that need updated, like plates and bowls – particularly for a food blogger!
I recently came across Red Candy and received some of their gorgeous Sherbet Bowls to try out with some of my cooking. The colours are literally as lush as they are in the picture online, though some are slightly darker, but still rather lovely, and I've received lots of lovely comments on the bowls when people have come to visit. Max has been using them too but he insists that he has to have the 'blue' (turquoise) one.
They arrived really well packed and sealed and I mean, really well. Box within a box within a box! But they are fairly delicate items and you wouldn't want to have them arrive smashed or chipped.
They really add a splash of colour to our kitchen (some of our cabinets are glass so you can see them on display). The set looks really good and would work perfectly to display nibbles at a party as they are so striking. But obviously they have been working well for us for our everyday meals and breakfasts.
The only negative I have is that they can't be used in a dishwasher or microwave which for me, is a little awkward. I have a dishwasher and just chuck everything in there after each meal, so I just need to remember to not put them in and hand wash them.
The bowls are made out of ceramic and have been really sturdy for us so far – must just not drop on our tile kitchen floor! The bowls cost £39, so just over £6 per bowl. This seems to be a fairly average rate for this kind of thing so I think it is really reasonable, plus, if they are naything like other ceramic bowls I've had in my time, they will last for years and years. They'll just look better!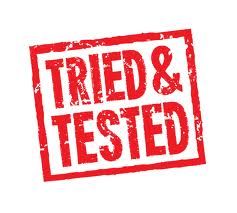 Rebecca x
BlogLovin' | Facebook | Twitter | Instagram
*The bowls were gifted in exchange for an honest review. All thoughts are my own.