Hi all – Laura here from First Two then Blue
Big Thank You to Rebecca for letting me guest post on her lovely Blog! I am mummy to Amelie, 7. Lottie, 5, and my troublesome tot Kier, 18 months. As a well experienced Mummy and Childminder, I would love to share with you some great Tips on entertaining little minds.
 If you have a tot around the same age as Kier, you will agree with me when I say Toddlers can be hard work, very tiring, and to put it bluntly, an absolute nightmare at times! Sometimes I think we stay at homes Mums need the patience of a Saint! I don't have much patience, like all mums whether they choose to admit it or not, I look forward to bed time!
Here are the top 10 things I like to do with my Toddler at Home and Out and About.
Top 10 fun things to do with a Toddler

 For not so Messy play, try poring some dry Pasta into a tray, add some wooden spoons and cups. Tots age 18 months to 3 years will love spooning the pasta into the cups and tipping it back out. Hours of fun!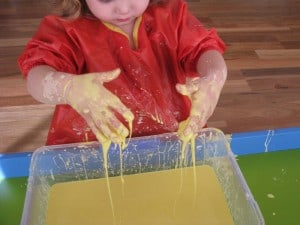 If you don't mind a bit of mess in the kitchen, try Gloop. Tots love exploring new and exciting things, what could be more fun than Gloop?
How to make Gloop
You will need 2 cups of cornflour, 1 cup of water, two drops of food dye and a large container. Encourage your child to mix and play with the gloop before it is completely mixed together, the fun and learning starts here. Explore the texture and talk about what it feels like – sticky, slimy, cold and powdery.

For toddlers some Arts and Crafts can be too tricky. It is hard to keep a Toddler to sit still for more than 5 minutes, so if you are thinking about doing some Crafts with them, it needs to be something to really grab their attention! Try getting some bright colour paints, and rather than using paint brushes try cutting up Apples into Half and using them as Stamps to make a funky looking Caterpillar picture like this. Give him some googly eyes and maybe add some spots and feet.
3.  Attend Local Toddler Groups
Your local Village hall or School may host a weekly drop in Toddler Group suitable for babies and toddlers usually up to 4 years. Sign up to Baby Gymnastics or Music groups for Toddlers if you want your tot to get really involved and socialise with other children.
4. Go Swimming
Swimming is a great way to spend quality time having fun with your toddler, some leisure centres have daily parent and child sessions, a great opportunity to meet other parents. If you are more serious about teaching your tot to swim, ask your local leisure centre for information on Swimming Lessons, most are happy to start teaching little ones as young as 1 year!
 Toddlers love learning about new things. If you have a Woods or Park near by, try taking your tot for a stroll.  You could even try making your own Nature Trail. Make a list of things you are hoping to find on your walk, and tick them as you find them. Your tot will love crunching through the leaves, feeding Ducks, and most of all talking to you about things you can see, a great way to teach your tot about the world around you as well as getting some Fresh air.
 Soft play Centres, some of us love it and some of us love to avoid it! It's your choice really!! Sometimes its best to avoid these places with young tots after school hours, but in school hours they are likely to be less busy and a great way for your toddler to let of some steam, and if your lucky you may be able to grab a Coffee and a Cake!
If you are lucky enough to have some outdoor space at home, you might want to buy a Water Table for your tot to play with on a nice sunny day, alternatively you can fill up a Large tray or tub (Not too deep) and add some boats, empty bottles, squirty toys, plastic cups. Make sure you don't mind your little one getting his or her clothes wet before you start.
Another great way to spend time outdoors with your little one. Toddlers and young children will love preparing a Picnic. Take plenty of healthy snacks and maybe some story books. Pack a blanket too and head to a nice Park or Garden.
9. Take a trip to the Aquarium
If you don't mind spending a little money, the Aquarium is a great day out for your little one. He/she will love looking at the large tanks filled with Sea Life, it's a great way for tots to learn about what creatures live under the Sea. Most Aquariums will cost between £10 – £16 per adult, and will be free for children under 3 years old.

This is probably my favourite thing to do with my Toddler. Obviously, it is best done in good weather! But we have been known to take a stroll along the Beach in the milder Winter months too! There is so much to do at the Beach. Digging, building, paddling, playing Ball, flying a Kite. It is all good fun, good learning experience and best of all, it's FREE!
So there are my Favourite things to do with my youngest child. I like to make the most of my time with Kier while the 2 older children are at School.
As well as these fun days out and Activities, we like to spend time playing with Lego, Puzzles, colouring, playing in our Garden, and Kier enjoys watching Baby TV when he is getting tired.
There is so much fun stuff to do with Toddlers, remember to enjoy it and make the most of it while they are little. Take plenty of Photo's and create an album of all the fun things you do together.
Thank you for Reading 🙂
*Huge thanks to Laura for these fab ideas – I really like picnics with my little ones and they love water play (I need to learnt o love messy playhaha). You can follow Laura on twitter
@TwoThenBlue
                                                                   ~Rebecca x